Publishing is an integral part of IEL's mission. For more about IEL Publishing, ordering information, and to request reprint permissions, please visit the contact page.
---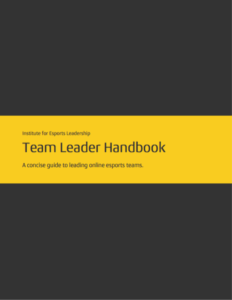 IEL Team Leader Handbook
A concise guide to leading online esports teams. Originally developed for the Esports Leadership Academy's Halo program, this guide is applicable to a wide array of team-based games.
---
Serious Games: Beyond The Hype
Teague Hopkins & Caroline Murphy
Serious Games are powerful tools for learning, both for their ability to increase engagement and for their ability to deliver complex information in a digestible format. However, serious games are not a silver bullet, and if misused, they have the potential to do serious damage.
---

Halo Can Make You a Better Teammate at Work
Teague Hopkins
In Halo, a team of less skilled players with better teamwork can overcome an uncoordinated group of highly skilled players. This article illustrates a loose framework to describe that level of coordination, and recognize where to improve it. Several of the tactics we use in-game are also applicable to teams at work.